December 5, 2010
Four in a Row
BARNESVILLE, PA — On behalf the Captains Club, Jeff Miller and Jason Ridgeway began to release details surrounding the 11th Major Championship scheduled for June in Pennsylvania. Ridgeway gladly took the responsibility of releasing financials surrounding general beverage at Mountain Valley Golf Course.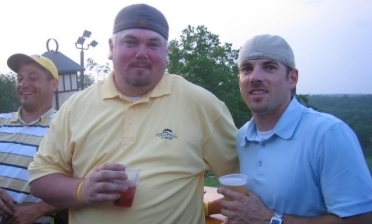 "Golf Course beer will be once again cheapest in event history," said Jason Ridgeway with a big smile. "The price per beer will be $2.00 for the 4th year in a row and lower than the first visit to Mountain Valley." The clubhouse will provide thousands of beverages using two beverage carts and a tents throughout the week.
"My two cases of beer remains under $100," said a delighted Jeff Miller. "The beverage cart girls should be happy with our consumption levels." Senior member Chris Milam asked, "Do you think the course will be have 2,000 beers to sell on the golf course this year?" Miller replied, "Yes. We are returning to a golf course, which is a plus for alcohol inventory. This will most likely be the most prepared a golf course will ever be for a golf event."
Mountain Valley has added a shack at the 11th tee box of the Valley course.
"This is the 4th straight year where beer is not included in the golf trip fee," said Don Creighton, Vice President of Transportation. "Transportation is included for the second straight year, which allows each participant to eliminate 'designated driver' from their list of concerns."
In addition to the clubhouse, participants can expect another lounge in the hotel with drink specials and entertainment. Timbers Lounge and Shenanigans Bar & Grill will have fully stocked beers.
"I see a record this year," says Ridgeway. "The record-high 1,960 beers over 4 days is in jeopardy before Madness on the Mountain is considered."
The 2011 Carl Spackler Open Championship registration period started on October 17 and ends on January 31. Tournament attendance is expected to be somewhere between 70 and 90 golfers.