July 17, 2019
Sumner Aces to Win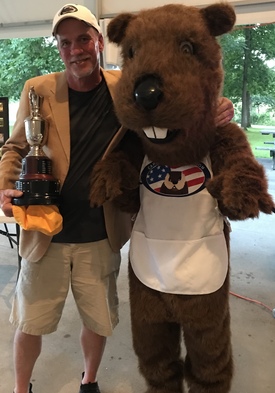 VICKSBURG, MI — Some aces are just better than others, and it will be hard to top the one Pennsylvanian Ken Sumner hit on Saturday at the Carl Spackler Open. 
Playing the blind 12th hole at Angels Crossing Golf Club in the final round, Sumner stuck a beautiful iron from 175 yards and watched with a keen eye as the ball landed on the massive green and disappeared into safety.
Sumner approached the empty green with his playing partners and wedge in disbelief. Sumner began the journey to the back of the green in search of the ball when he noticed the ball in the hole.
?We were all pretty excited,? says playing partner Don Justice. ?An incredible shot at the right moment.?
Sumner entered the tournament averaging 0.68 birdies per round. He finished the 3 round tournament with 5 birdies and 1 eagle. He carded just 8 double-bogeys and zero triple-bogeys.
The Carl Spackler Open Leaderboard played tight for most of the first 12 holes. Don Justice and Ken Sumner kept battling while Dan Patterson kept digging into the lead.
Sumner was in 3rd place by a few points when he scored the 16-point eagle. The ace instantly gave him a 10-point lead, which he never relinquished.
Dan Patterson continued to perform narrowing the gap to 3 points by Hole 15, but faded. Don Justice scored 15 points on the final 3 holes nearly winning the tournament. Sumner made critical putts at both 16th and 17th holes to keep the lead.
?It was super tight to the 18th hole,? says playing partner Greg Long. ?Sumner needed to put a ball in play on the tight 18th hole or Justice needed a bogey to win. Sumner had just yanked a ball into the weeds on Hoke 17, which added drama. Ken played great and struck his drive into the 18th fairway before hitting his approach into the gallery. Then finished with bogey and his first major.?
The 2019 Carl Spackler Open fielded 90 players from Florida, Texas, California, Delaware, Pennsylvania, Massachusetts, New York, New Jersey, North Carolina, Virginia, Ohio, Wisconsin, Michigan, and Missouri. The 19th installment of the Carl Spackler Open was played at Angels Crossing Golf Club in Vicksburg, Michigan and experienced no rain.