April 1, 2020
Participant Options Open
FARMINGTON, NM — The 2020 Carl Spackler Open announced today it has begun its option period. The second phase of the individual planning period is open from April 1 to April 21 and will collect nearly 800 responses. A transcript from the press conference was supplied by Reuters for distribution. Jean Dore was asked to hold the press conference.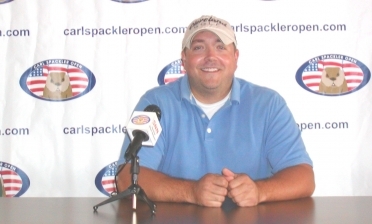 "Our great event will be held In a small New Mexico town surrounded by high elevated desert,? said Dore from a temporary media tent. ?Golfers will be asked to drive or ride only 6 minutes twice daily. The rest is walking.
Mass text and email communications are more important than ever. Make sure you are receiving both because things can and will change at a moments notice. The 96-hour event will be left to run on auto-pilot starting June 10.
This is your vacation, however we are asking for 30 minutes of your attention in the next month. Please slow down, think, read itinerary, chat with posse, look at responses of others, and complete the options step-by-step. Return to option process and make changes. Your account balance will update automatically for each purchase."
The participation option process will take orders for apparel in April. These apparel orders will be the first funds spent in 2020 using your initial deposit. The apparel is not New Mexico specific. All orders will be delivered and not a financial loss regardless of event participation. All golf fees and hotel fees will remain in the bank until at least June 2020.
The 2020 Carl Spackler Open continues with its planning process in its first national emergency. The event has struggled with greens in 2018, golf course competence in 2019, and shut down country in 2020. There are 72 to 76 players scheduled to participate in the 96-hour golf party.